traveling with pets pet anxiety pet friendly hotels
Buster's Vision Education Tool
Traveling With Pets Safely
By Dennis Lubrano, "NO EXCUSES, NO KILL!"
Editor, Meet Gulati
Jul 7, 2017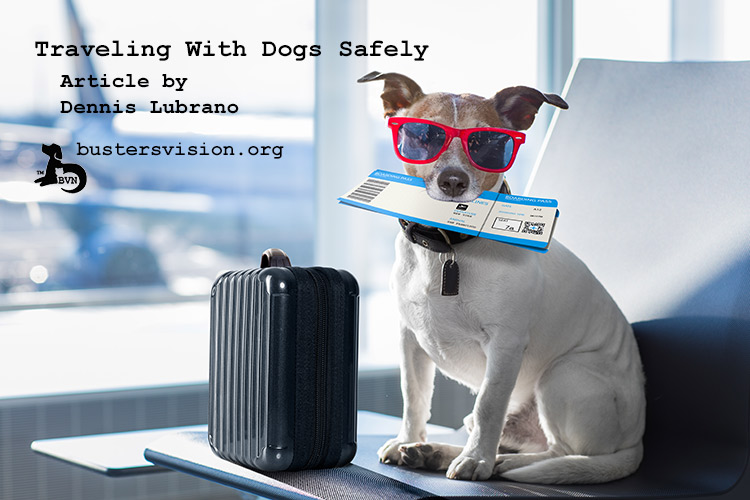 You are planning the perfect summer retreat? Do you need to travel for work? Do you want your pet to accompany you? Either way, traveling safely with pets is necessary. My friend's, it's time to add these essentials to your travel checklist.
"OMG! No Pets Allowed In Hotel?"
Plan in advance to avoid a vacation disaster or unexpected crisis. Also, stress can cause pet anxiety too. Contact airport and pet-friendly hotels for reservations. This article will give you ample information for traveling with pets safely.
A Visit to Your Vet:
This should be your first stop for a number of reasons. Make sure your pet is up to date on all their shots

and obtain

records for travel validation

. These will be necessary for pet-friendly hotels, animal boarding facilities, etc. Remember to ask your veterinarian for any

prescription refills or additional medications your pet may need. For instance, relaxants for pet anxiety

.

If you're flying, it's best not to give your pet anti-stress medication. Instead, try a

DAP collar

that emits stress-zapping hormones, recommend the experts at pet insurance company PetPlan.

You could check your local stores for natural options too, but it's best to go by what your vet suggests. Inform your vet about your destinations. They may be aware of required

 specific environmental inoculations

. Did you know Hawaii has animal quarantine rules? It's always wise to do your research and be aware of any

destination-specific regulations

for pets.  
Preparing Your Pet:
Register your pet with your airline

if he or she is flying, as many carriers have a maximum number of pets that can travel aboard a flight, says Nicole Ellis, a former animal trainer and resident pet expert at

DogVacay

. Also, make sure to check on crate or carrier dimensions.

 

If you're planning a road trip, spend a few days

getting your pet used to being in the car

. For instance, you can drive them to a nearby park a few times to create a positive association. This process helps and the same holds true for buses and lights rails. Especially if you have a service dog.
Your Tech Safety Net:
You do not want your pet to get lost on a vacation. So before packing your bags, make sure your pet has their license, a microchip as well as a tag with your name and phone number attached to their collar

. Thankfully there are a number of

tech accessories and apps

to keep track of your pet.

WalletCard

is an identity card plus keychain accessory, compatible with most smartphones and links to a free Facebook-like profile which provides medical information, GPS mapping, etc.

Pawsitively Safe

is another lost pet finder system that helps reunite animals with their caregivers.

Pawprintsid

is a tag that stays with the pet for life and contains all sorts of information that can easily be scanned with a smartphone. (It also has a toll free number for assistance.) Do a Google and you'll find a world of options for travel tech accessories.
Carriers:
Depending on your pet's size you may choose a carrier you can actually carry, pull along like a trolley, or a wheeled carrier. Some of these even double up as car seats for a road trip. Again Google will help you find one that suits your needs best both while traveling and exploring your destination. Larger pets may require crates for secure air travel or even while riding in an RV. Remember to label your pet's carrier

with your contact details.
Safety in your hands:
While on a vacation or in a new place, your pet will be just as excited as you to explore, maybe even more. Don't worry there are many ways to keep them out of harm's way. Safety belt harnesses

that double as carriers,

muzzles

to control their barking, and

leashes

to keep them close. A muzzle will especially make your pet seem less aggressive at border stations, where your vehicle may be searched by security personnel; or to co-passengers or locals while traveling. It is so important to have the

proper collar, halter, or halter, and leash

for your animals, especially in unknown surroundings. While customization is cool, try choosing options that also ensure safety. Such as

reflective or LED

collars, leashes and knuckle lights will make you and your pet visible in the dark and from a distance.
In Their Zone:
Yes, it's possible even in unfamiliar surroundings to create a zone of comfort for your furry friend

. Portable free standing doorway gates, portable pet yards, and canine tents are great options for RV travel, in hotels, motels, and campgrounds. Some pets may require ramps during travel. Again the internet will be your best friend in searching options that suit your travel requirement. Needless to say, carrying their usual chew toys and playthings will be a great comfort factor for them. If you're planning on keeping them in the hotel room

while you're away

,

leave the TV on for some comforting background noise. Always keep the "do not disturb" sign on the door so that housekeeping doesn't scare your critter, and request a room away from the elevator to minimize foot traffic in front of your door.
Pet-Friendly Locations:
Thanks to pet lovers and animal advocates, there is no lack of pet-friendly RV parks, campgrounds, motels, hotels, and vacation rentals across the United States and the world. You just need to Google

for them

and make advance reservations

.

Here's

a helpful website to begin with!
Weather Ready:
By now you must have checked on the weather conditions at your destination and started packing. Besides weather appropriate pet attire, also remember to pack UV protection glasses, sunblock, paw protective socks for hot and cold surfaces and rain gear. Yes, your pet needs them just as much as you do. If you're planning to be out in the heat for hours, you may want to look into harnesses and safety vests designed to have a cooling effect. Or carry pressure activated cooling pads for the pet to lay on. Fortunately, with the endless variety available both online and in stores, it shouldn't be very difficult to find UV protective, reflective or well-insulated designs that are chic as well.
Food Carriers:
A well fed and hydrated pet is a happy pet. Along with ample treats, pet food, and water, it's also important that you carry your own food containers. Think of lightweight, flexible containers that fold flat to fit easily into bags and open up into sufficiently sized bowls for food and water. Or bags that can contain two bowls along with space for storing food.
First Aid:
Besides your pet's regular prescription, do remember to carry a first aid kit. It should be easy to find one online or in pet stores. Here's an

example

. Also, remember to include insect repellents.
For the Fun Part:
Headed out for a vacation packed with adventure? Be sure to check out any adventure gear your pet may need to accompany you. Or are you planning to take the water by storm? Carry a canine life vest or jacket and an escape ramp to help them get out of a pool or other watering holes. Throw in some floating treat and toys and your pet is all set to join in the fun. Wait till you see this dog

wakeboarding

!
We bet you can't wait to take off. Just remember, safety is the buzz word. With that covered, there's nothing stopping you from having a great vacation with your pet. We've included a list of helpful links below. Also here's a great website that offers a comprehensive checklist for pet-friendly travel.
Bon Voyage!