pet license pet shots
Buster's Vision Education Tool
Pet License, Shots, Costs & Enforcement
By Dennis Lubrano, "NO EXCUSES, NO KILL!"
Editor, Meet Gulati
May 2, 2017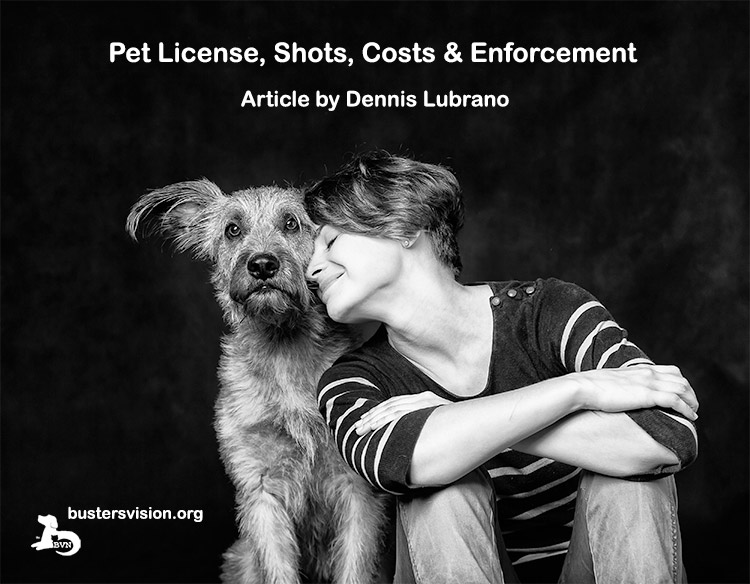 Things you should know about pet license, shots, costs and enforcement.
Most law enforcement mandates pet owners register at their local city or county animal control center. You must prove you have up-to-date rabies and pet shots in order to register your pet. Research pet license, shots, and costs prior to getting a pet. Pet's are for LIFE!
Why do I need a license?
A license ensures your pet's safe return home. Keep your pet's license attached to their collar or harness at all times. I cannot stress the importance of a pet registration and license. The license is a link back to you and your community. Cities can also track the number of animals for concerns about health and safety. Most municipalities require a dog registration and license. There are also many municipalities that require a cat registration and license. It can be your lifeline to the animal in an emergency.
How much is the cost?
It is an incentive to spay and neuter your pet. With that said, you can pay as little as  $10 to $20 per year. If not, expect to pay more. Check with your municipality to see what the local charge is per year. Most municipalities charge no fee for service animals. Check if your state offers a lifetime discount. There are also kennel licenses for breeders. Be sure to look into laws when applying for a license in your area.
What if I don't get a license?
If a license is required by law, fines are issued for animals not licensed. You must renew the license each year. This shows the animal is up to date on all shots. Also, imagine the pain if you lose your pet with no license. That itself makes the already nominal license cost worth it!
Where does the money go for pet licenses?
Funds for pet licenses go to animal services. It includes shelters, animal cruelty investigations, and animal rescues for natural disasters
Trivia
I read the first dog license was issued in Massachusetts during the 1840s.
Ways to Wear the License
Most animals wear an assortment of tags for their license. Then there can be microchip tags, shot tags, and of course cute personalized tags. Microchips are invaluable for lost pets without a collar or harness. However, microchips are inserted under a pet's skin. They are not visible to the eye. They have to be scanned for pet information. Licenses worn by the animal are always visible and seen immediately.
When do you need a license?
Dogs over 4 months of age require a license if mandated by law. Often, when relocating to a new state a pet license may be required.
The Sad State of Enforcement
Enforcement of licenses has its own problems. Most times penalties are a citation and a fine. Unfortunately, with local budget cuts, there are fewer enforcement agents to uphold the law.
Shots and Their Costs
Like humans, animals too require immunization and booster shots. These costs depend on three factors:
Age of the dog, your location and where you get the shots.
The dog's first year of vaccinations can be expensive. Ranging anywhere from $10 to $150 or more. Also, larger animals require larger dosages. You may get the shots at a veterinarian or a vaccination clinic run by a local government or humane organization. Be mindful of the costs when visiting a vet clinic. It is best to ask them for a price breakdown for a single visit as well as yearly shots. Also, different cities have different immunizations requirements. A little Internet research will help you estimate the costs. Consider reducing your costs through animal health insurance, rebate coupons, and discounts available for prescription medications, vitamin supplements, etc.
There is much controversy for pet shots. The pet shots may have long and short-term side effects affecting their health. Do your research and consult with your vet on different options to keep your fur-baby happy and healthy.