Bogus Rescues Pet Rescues Rescue Pets
Buster's Vision Education Tool
Bogus Pet Rescues
Posted By Alejandra Gonzales, "Proud Animal Rights Ally"
Editor, Meet Gulati
April 25, 20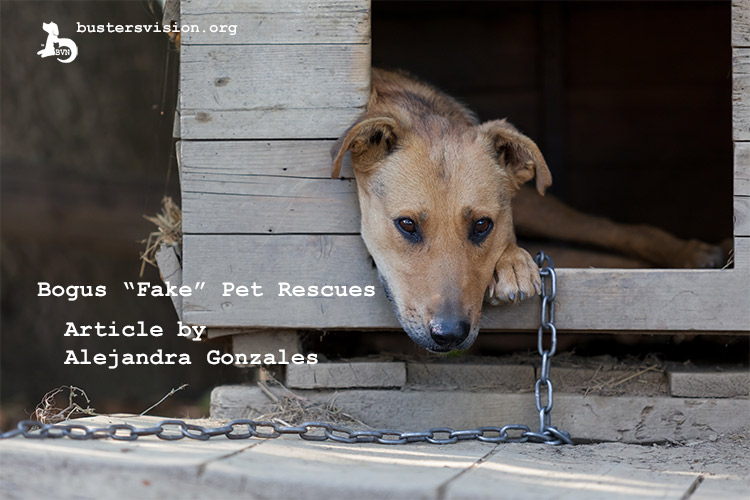 Bogus Rescues & PopUp Rescues
At the present time, bogus rescues abound on Facebook and multi-media social networks. Unfortunately, they pretend to be ethical pet rescues. Bogus rescues cheat donors for their pledges and donations. When in fact, they use animal adoption as a front and/or have no rescue pets. Also, bogus rescues create fake animal crowdfunders for donations. For the most part, they fraudulently steal people's money using animals as a front.
More about Bogus Rescues & PopUp Rescues
Whenever animal lovers hear the words "pet rescues", a sense of relief is a common emotion. Significantly, pet rescues save animals from the most hellish conditions. In due time, they secure the animals in safe and forever loving homes. Unfortunately, many bad people deceive and use "pet rescues" as a front for "adopting" out puppies.
Furthermore, this disturbing popularity trend is coined as "PopUp Rescues". Often, these horrible rescues register as non-profit organizations and ask for donations in order to turn a profit. Similarly, they behave much like puppy mills cramming dogs into inhumane conditions. Sadly, they also disregard animals' health and wellness. These deplorable individuals are churning out "adoptions" without delay. All the while, they are earning large amounts of money pawning sickly animals. Sadly, you see many animals suffering. Thankfully good people adopt these poor animals. Unfortunately, many adoptees experience unbelievable emotional pain with sickly pets or the loss of a  new fur-baby.
Megan Ann Hoechstetter "A Monster of Horrific Animal Abuse"
Now, this is a dreadful case about animal abuse from Irvine, California. Sadly, a woman named Megan Ann Hoechstetter set up a fake pet rescue online to sell dogs.  First of all, Megan registered Pawlosophy as a non-profit organization. Falsely, the website stated it had "placed hundreds of animals into loving homes". In due time, the website was taken down. Once, the police arrested Megan, they found six puppies in her trunk. Surprisingly, thirteen more puppies were found in her motel room. Frequently, Ann would meet interested families in parking lots. Furthermore, she did not bother to interview people to see if they would be responsible and loving pet owners. Sadly, approximately thirty adopted puppies died due to the infections and parasitic viruses.
Red flags for Bogus Rescues (Fake Pet Rescues) & More:
Visit the adoption center. If the "adoption facilitator" wants to meet somewhere. You should be wary and report them immediately to the proper authorities.
Make sure the pet rescue or nonprofit is asking you plenty of questions. Ethical pet rescues want to ensure animals are properly placed into loving homes. The pet should be a great fit for everyone.
Lots of puppies are a signal for negligence. Tread lightly. Unfortunately, puppies are in greater demand. Sadly, many older pets are left behind or put-to-sleep. Hence, the reason why you see more puppies for adoption.
Nonprofits require a board of directors. Look for disclosed Tax ID on their website(s).
Always do your research. Browsing through their website is never enough!