Craigslist pets dog fighting animal cruelty
Buster's Vision Education Tool
Craigslist Pets
Posted By Alejandra Gonzales, "Proud Animal Rights Ally"
Editor, Meet Gulati
April 25, 2017
Trolls Stalking Craigslist Pets
We all know this popular site. Many people browse for gently used furniture. While others sell iPhones and video games in order to buy the respective upgraded versions. At the same time, many Craigslist pets are victims of ongoing animal cruelty and abuse. Many Craigslist pets are used for dogfighting. These monsters are ready to take advantage of people who can no longer care for their pets. An ad, such as, "Free to a good home" is a magnet for animal abusers and killers. Deeming it unsafe and dangerous to advertise pets on Craigslist. Craigslist needs to stop this illegal activity to protect animals.
Cases of Animal Abuse:
Ronald Fraser Golden from Athens, Alabama. Created a "cat room" in which he would stomp and throw kittens to death. Mr. Golden said he was angry at the world. He got the kittens from Craigslist ads. The courts charged Mr. Golden with 22 Counts of Animal Cruelty.
Jason Brown mutilated, tortured, and killed seven dogs in hotels and motels in Reno, Nevada. He got the dogs from Craigslist. People who gave him their dogs thought he was nice and looked clean cut. The courts sentenced Mr. Brown to prison for 28 years.
Arthur M. Vieira got a dog from Craigslist. He tied the legs together, muzzled the mouth, and set the dog on fire. The woman could not keep her dog so she gave him to Mr. Vieira. Mr. Vieira pleads guilty in the Virginia Beach Courts. Mr. Vieira was sentenced to prison for 5.5 years.
Abused Craiglist Pets Used For:
Target shooting practice,
bait for dog fighting,
medical research,
breeding and more.
Animal cruelty is an outrage. There need to be stringent laws that are enforced to the there fullest extent to the perpetrator for any unjustness.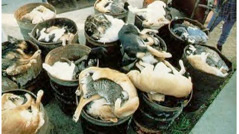 Pet ownership is a HUGE responsibility. You need to understand the necessary work and time required for a pet. It's also one of the most incredible decisions you'll ever make. I am an owner of three beautiful dogs. Sometimes, they can be a bit tedious and overwhelming. If I didn't have the "tedious" in my life, there would be an absence of joy. It's part of the package.
Pets are for life. Don't get a pet unless you are fully prepared to care for its lifetime. Pets depend on their owners. They require love and protection. They are not disposable items that you can pass on to others. Especially, when they get old or sick.
What happens to an abandon shelter or rescue pet? Realize your pet is no longer in your hands. We can only hope your pet will be adored, loved, and cared for the duration of its life. Sadly many pets are abused or put-to-sleep. Don't abandon your pet to a shelter. Seek out a "No Kill" rescue.