raising well adjusted cats test socializing cats
Buster's Vision Education Tool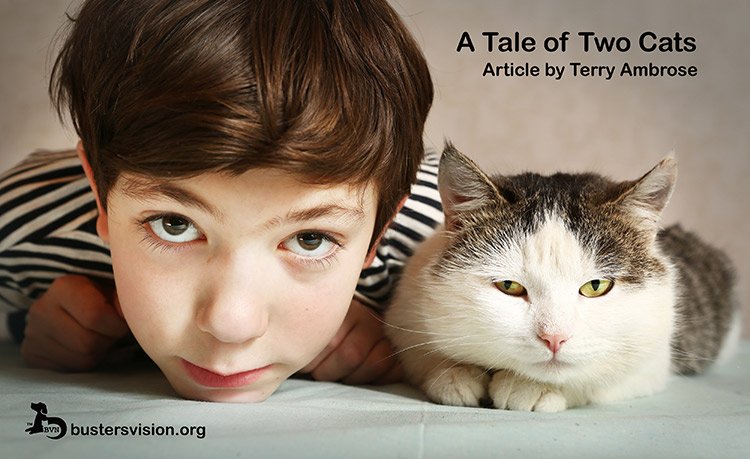 Raising Well Adjusted Cats
There are two kinds of cats. Those that are lovingly handled and socialized from birth, and those that aren't. This story is about socializing cats and kittens. Kittens that are handled daily from birth, introduced to different situations, environments, animals, and people tend to be outgoing. This makes a well adjusted, curious, and playful cat. 
In contrast, feral cats and kittens that aren't socialized or exposed to many sights, sounds, and settings are often reserved, shy, and fearful. They may even become aggressive in stressful or frightening situations.
Following are Examples of My Two Cats:
Buff the Socialized Cat
My first cat, Buff, was an 8-week-old, white, domestic longhair. When I rescued Buff, she was a young kitten. Immediately, I fell in love with this adorable kitten. Lovingly, I played with her and talked to her. I took her everywhere when going out. She met all my friends, their children, and their pets. She loved riding in cars.
At that time, I was working in a tiny enclosed post for the U.S. Army in Germany. I often worked evenings, weekends, and holidays. On these occasions, I took Buff to work with me, since she's great fun and company. Once parked, I would carry her into the building. She plumed happily in the halls beside me. She greeted people with a sweet meow. Buff absolutely adored their pets, rubs, and lots attention.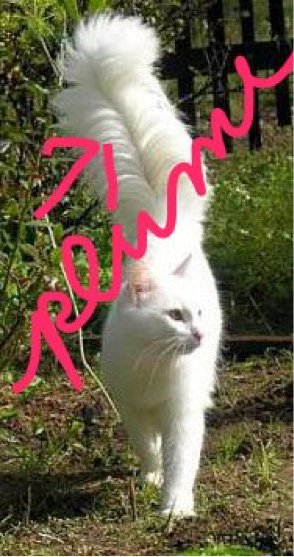 The huge, noisy IBM computer housed in my office didn't phase Buff. When she finished exploring, she stretched out on my desk and made herself comfortable until I finished work. After arriving home, I would take the time and groom Buff.  I played with her feet and tail, pressed out her nails, and brushed her. Buff loved baths. Buff was a well-adjusted, outgoing cat because I handled and socialized her as a kitten. We enjoyed many wonderful adventures. Buff lived to the ripe old age of 19. I love and miss my precious cat to this day.
Houdini the Escape Artist!
Houdini was a two-year-old long-haired, gray tabby with attitude. I discovered him at the city animal shelter where he earned his name. Shelter workers brought in the thin, scruffy-looking stray believing he had been in the streets for a while and had suffered abuse. They cleaned him up, gave him his shots, and fattened him up while advertising for his adoption. Seeing his picture at a local PetSmart, I told my husband we had to go to the shelter to look at him. "We are not getting another cat," Mike asserted. "Oh, no. I just want to look at him," I lied. Off we went to the shelter. Shelter personnel were delighted to hear we were there to see Houdini.
They told us he had been the shelter for 3 months and that they could not keep him any longer. They told us that this was his second time at the shelter and explained how he earned his name. He had escaped! He got out of his enclosure, out of the cat room, through the lobby, passed the reception desk, up the stairs, and out the second story window. They had recaptured him and here we were meeting him for the first time. They told me how sweet he was as I took him into my arms for the first time. He purred as he lay in my arms and looked into my eyes. Then he scratched me from the outer corner of my right eye to the outer corner of my mouth and jumped from my arms! "I'll take him," I said to everyone's dismay.
Life in a shelter is stressful and depressing.
Dogs and cats become very anxious and despondent when living in shelters. They are in unfamiliar surroundings, in cages or runs, with other crying animals.  Life in a shelter is a dismal, depressing existence. After months in the shelter, Houdini was depressed and stressed-out. His only way of expressing his fear was to lash out at me. Houdini needed understanding, security, and love. He would be a challenge, but I also knew he would be a lot of fun and learn to love us.
This takes us back to the differences between cats who are loved, fondled, socialized, and exposed and those who aren't.
Earning an abused cats trust.
Houdini had to forage for food on the streets. Even though we fed Houdini and his new housemates twice daily, he wasn't yet convinced that the next meal was coming. At first, he stole food from our plates and countertops. We worked through that and he soon came to trust us with feeding. It took a long to brush Houdini and earn his trust. Usually, it was short periods of brushing that ended with hissing and growling. I respected his limits and stopped when he'd had enough. Bathing Houdini was out of the question. Imagine me dressed in chain mail bathing Houdini. More than likely, both of us would develop PTSD.
Unlike Buff, Houdini was un-nurtured as a kitten and the nurturing was not long enough with the mother. As time went by, he learned to trust us and we knew what to expect from him. Shortly after bringing Houdini home from the shelter we discovered he had a serious urinary tract infection that had destroyed one of his kidneys and damaged the other. We gave him fluids under his skin several times a week and fed him a special diet for the rest of his life. If he didn't want an infusion on a particular day, we skipped it and made it up the next day. Stress is a killer too. Even with one damaged kidney, Houdini gave us 11 years of love and joy. We won't forget him.
Be sure to take baby steps with a cat not nurtured as a kitten. You must earn an abused cat's trust. They will let you know what they need. Sometimes you have to decide whether an activity is worth the stress. From the beginning, socializing your cat or kitten is very important.
Whether your cat comes to you as a much-loved and handled kitten or as a sad, lonely stray; your patience and attention, kindness and understanding, a soft hand and a gentle voice will gain you the love of your cat.