dog myths dogs eat grass
Buster's Vision Education Tool
15 Dog Myths
By Dennis Lubrano, "NO EXCUSES, NO KILL!"
Editor, Meet Gulati
December 22, 2017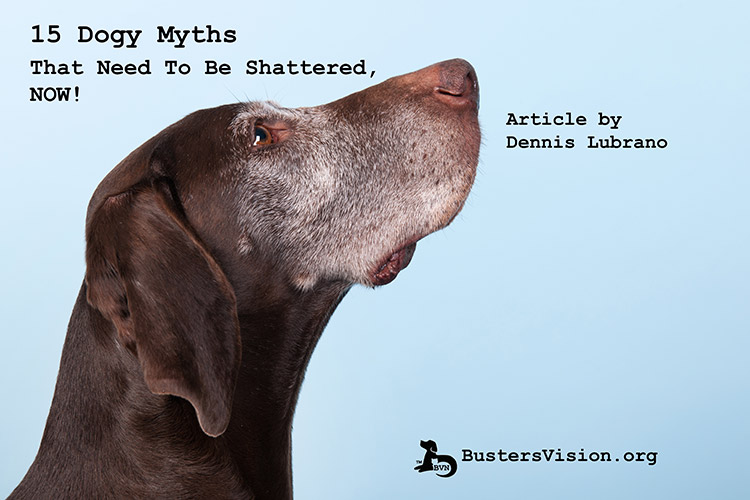 Fun Fact About Dogs!
Dog Myths! Why Dogs Eat Grass. Are Dogs Color Blind? And More…
We have all heard them. Now it's time to set the record straight.
DOGS EAT GRASS WHEN THEY ARE SICK
True, dogs eat grass because they may be stressed, bored, or seeking nutrients. (Most grass is chemically treated and toxic for dogs.)
DOGS LET YOU KNOW WHEN THEY ARE SICK
False. In any event, dogs do not want to seem vulnerable. If they seem low, their overall condition might be quite severe.
DOGS ARE COLOR BLIND
False. They can actually see several colors, along with saturation of blue, yellow, and grey.
DOGS AGE 7 YEARS TO ONE OF VERY HUMAN YEAR
Not necessarily. To sum it up, breeds determine how a canine age. Larger breeds age faster.
DOG MOUTHS ARE CLEANER THAN HUMAN MOUTHS
False. By and large, a dog's mouth can contain plenty of germs, even more than humans. They will not harm you.
A DRY, WARM NOSE MEANS A DOG IS SICK
False. All in all, your dog's wet, dry, warm, or cold nose has to do with the weather and humidity. It can change in minutes.
DOGS LICK TO HEAL
False. Licking is natural for a dog, and not necessarily healing. Too much licking is not good and can do the opposite of healing.
DOGS WAG THEIR TAILS WHEN HAPPY
Not Really. It can mean many things, such as happy, excited, and eager, as well as fear, aggression, or a warning to back off.
CERTAIN DOG BREEDS ARE MORE AGGRESSIVE THAN OTHERS
False.
Ultimately, aggression is not specific to a breed. It depends on a dog's environment and how it is treated by humans.
A MIXED BREED IS ALWAYS HEALTHIER THAN A PUREBRED DOG
Not true. Generally speaking, both can be unhealthy, alhough a mixed breed is less likely to have genetic diseases like purebreds.
CAN A BACKYARD REPLACE DOG WALKING?
False. All things considered, you may have a big yard but your dog may never run in it or use it at all. A dog needs to imitate the wandering of a dog pack in a territory, which can be done by simply taking them for a walk. Running in a yard aimlessly may only lead to more anxious energy afterward.
DOGS ARE JEALOUS
True. A lot of studies prove it.
DOGS LIKE TO BE PETTED ON THE HEAD
True For Some, however many dogs may not appreciate it.
DOGS LIKE FOOD THAT TASTES GOOD
True and False. A dog's sense of taste is much less discriminating than that of humans. In fact, while humans have roughly 9,000 taste buds, dogs have only around 1,700. Dogs eat because of their hungry and their sense of smell.
INDOOR DOGS DO NOT NEED HEARTWORM PREVENTION
False. In fact, mosquitoes spread heartworm.
Hungry for some more fact checking?
I've added resources below. While much of this article is inspired by these links, I believe there are many more myths to be shattered. Who knows, you may bump into some really valuable information on canines in your research!
Happy Learning!